What's that coming over the hill? : Leith Festival 2011 Special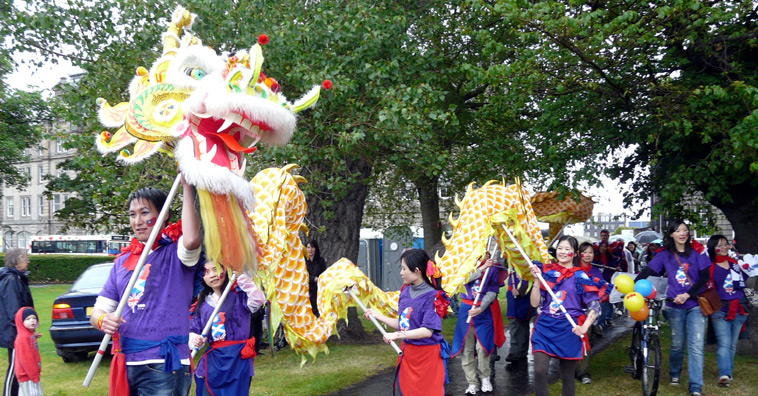 Leith Festival 2011 ran from June 10th to 19th, starting with a spectacular Community launch in the open air theatre of the Kirkgate Shopping Centre, and culminating in the now traditional Leith Festival Tatoo.

On Leith & North's packed pages, you will soon find pictures of the Leith Festival launch - this year, with a youth theme, as well as pictures of the Leith Pageant, stalls and Leithers braving the rainlong Leith Gala Day, and pictures of performers including Edinburgh Samba School, Leith Community Concert Band, the Beltane Society Processional Drummers, the Pulse of the Place Drummers, and Twisted Tails American Tribal Style belly dancers (pictured below).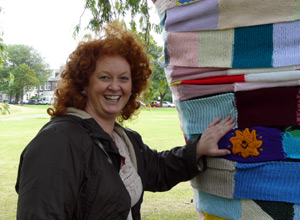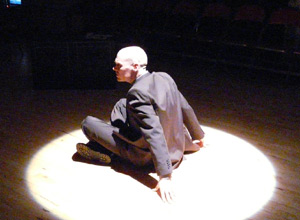 Left <<<: Adele Conn with the Sunshine on Leith wool square all the way from New York.
Right >>>: John arrives in the surreal waiting room in "Next in Line" the exciting piece of community theatre at Out of the Blue.
The highlight of Leith Festival is the annual Gala, but the festival continues to grow, thanks to the hard work of Festival Manager, Adele Conn (pictured left,) and her team, the dedication of Leith Festival Board, (chaired by Leith Councillor Gordon Munro,) bringing in funds in straitened times, and to the Gala Day Committee. It is now a truly Leithwide event which embraces all sorts of activities, and many venues.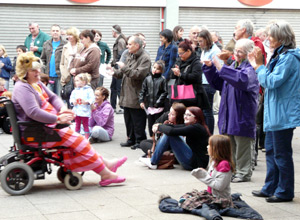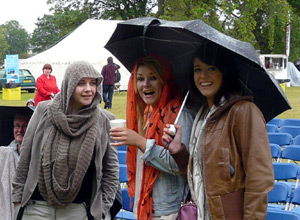 Left <<<: The amazing Jessie Csere, runaway star of the Community Launch.
Right >>>: Three members of Craft:Live! runners up in the "Music Fae Leith" hunt for new talent, waiting to perform on Leith Gala Day
The climactic event of the Festival is the Leith Festval 2010 Tattoo, once again organised by Fred Frayling-Kelly, who last year received the 2nd Crocus Award in memory of Cllr Elizabeth Laidlaw.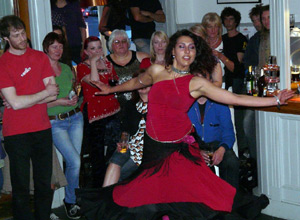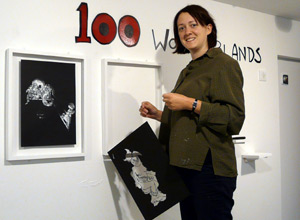 Left <<<: Constantina dances at Elspeth Swish and Hips' Leith Hafla in The Parlour
Right >>>: Alice Bethune Spicer prepares for her highly praised exhibition 100 Wonderlands at North Edinburgh Arts Centre.
The headline sponsor for Leith Gala Day and the pageant this year was Scotmid. Learn Driving Skills sponsored the Leith Festival Community Launch, Forth Energy sponsored the Leith Festival Tattoo, Vittoria Restaurants Group sponsored the comedy. Other major sponsors included STV Local (entering the field for the first time), City of Edinburgh Council, Leith Links Community Council, Dancebase, Lali Lobzhanidze, Port of Leith Housing Association. Funding came from Arts & Business Working Together and the Big Lottery Fund.

Venues included the North Edinburgh Arts Centre, the Out of the Blue Drill Hall (arts and drama), Ocean Terminal (arts), the Cruz ship, Leith Community Education Centre (sport and crafts), the Queen Charlotte Rooms, Leith Folk Club, and the Friends of Dalmeny Park, as well as primary schools from all over the area. Comedy and music strands throughout the bars and cafes of Leith are burgeoning, and The Parlour hosted Leith Festival's very first belly dancing hafla this year!

Leith Festival web site >>>