Leith & North: Please email any news items to: news@leithandnorth.org.uk
Montgomery St Park Spring Fun 2009: Spring is Here! Let Them Eat Cake!

Download draft consultation plan about the Park's future layout (pdf)>>>
The Friends of Montgomery St Park held a Spring community fund day to raise funds towards the park renovation project and bring local people together. Local businesses including Renroc Cafe, Health For Life, and Eero Riley joined in the fun, with the annual cake baking competition judged by the Manna House boys. The Bike Station sent along Dr Bike and a stunt bike trial obstacle course, and there was a target board for frisbee lovers.


Read more about Montogomery St Park Spring Fun on Leith & North >>>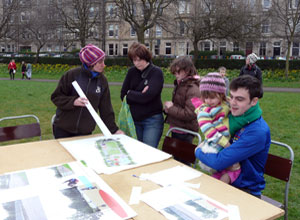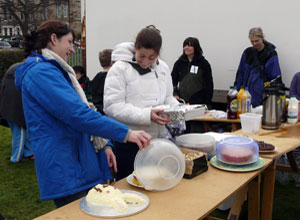 Left <<<:
Residents view the proposed plans for the renewal of Montgomery St. Park

Right :>>>
Cake baking competition contestants comparing cakes
The Montgomery St Park area is split into two areas which stretch between Elgin St (off Brunswick Rd) and Montgomery St - a tarmacadammed childrens' play area and a lower large grassy area rimmed by areas for flower beds and mature trees; these areas are split by a small brick wall and an an aluminium fence. Residents have a vision to replace the brick wall with terraced steps which will lead down from the play area opening out into the park.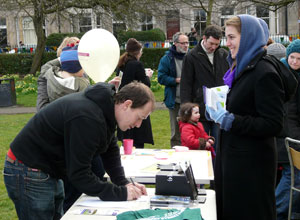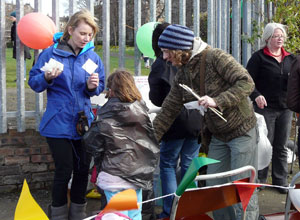 Left <<<: Wildlife competition in aid of Montgomery St Park funds
Right :>>> A child getting ready to paint a brick.


The Friends of Montgomery St Park have launched 'Take Down the Fence Campaign 2009' to raise funds to replace the wall with steps that people can sit and sun themselves on. The cost of this work is around £15,000, and this is the main fundraising target for the coming year. The Friends are selling bricks at two quid a shot, to put towards a fund for this work. Bricks are available for sale at Eero & Riley's on the corner of Easter Rd and Montgomery St - but a great idea for the Fun Day was to bring out the paints and get kids and adults painting away. There are a thousand bricks.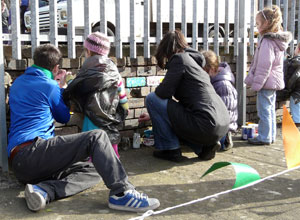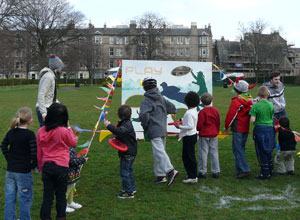 Left <<<: Childrean and parents painting bricks on the play park wall.
Right :>>> Dr Frisbee's frisbee throwing contest
Read more about Montogomery St Park Spring Fun on Leith & North >>>
Friends of Montgomery Street Park web site >>>
Friends of Hillside & Calton area web site >>>
The Bike Station web site >>>
Eero & Riley web site >>>
The Manna House web site >>>
The Natural Health Clinic web site>>>
Renroc Cafe & Nevo Health web site >>>