Leith & North: Please email any news items to: news@leithandnorth.org.uk
Leith Links returns to the Middle Ages

The 2009 Polish Cultural Festival came to a climax on Leith Links with members of Scotland's Medieval community coming from all across Scotland to demonstrate the crafts, music and costumes of the ages. Polish food and wine was on hand in plenty as people of all ages watched tournaments and combat reenactments and kid joined in a melee.

continued on Leith & North >>>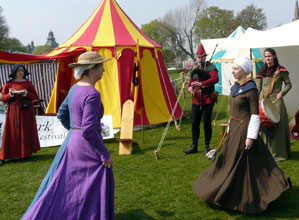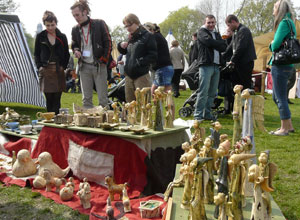 Left <<<: Dance demonstration as Gaita's Chris and Stacy play pipes and drum.
Right :>>> Figures made by Handcraft House.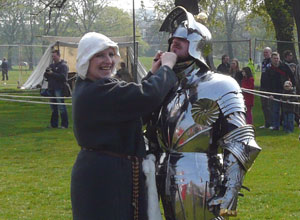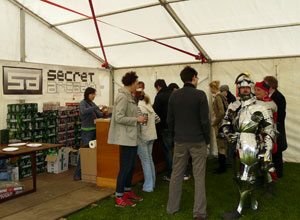 Left <<<: Getting ready for Knight School.
Right :>>> The Beer Tent served by Secret Arcade Polish Vodka Bar.


Aside from the chance for children to learn about Medieval life, there was much face painting in evidence and children also had the oppportunity to work with paper cutouts of Edinburgh's Polish town executioner, Wycinanki, designed by cutout artist Malgorzata Belkiewicz.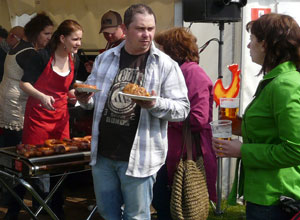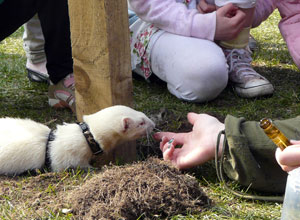 Left <<<: Fresh cooked Polish sausages and vegetables in the open air.
Right :>>>Weaselly Stoat (age 5) the rescue ferret taking his mineral supplement.
continued on Leith & North >>>
One major highlight for Leith & North brought the Medieval Ages into modern day life in a very immediate way. This was meeting Weaselly Stoat the rescue ferret out and about for the day with his carer (pictured above with some turf he dug up). Weaselly was a charming and gentle creature, whose carer was happy to answer any and all questions about him and ferret care.

Lanark Medieval Festival web site >>>
Medieval Realm Reenactment Group web site >>>
Swords of Dalriada Reenactment Group web site >>>
Gaita medieval music web site >>>
Secret Arcade Polish Vodka Bar web site >>>
Medieval Clydesdale web site>>>
Bathgate Ferrret Rescue web site>>>
Armoursmith Maciej Kotlarz's web site (built in Flash) >>>
Cut out artist Malgorzata Belkiewicz's web site (English version) >>>