Leith & North: Please email any news items to: news@leithandnorth.org.uk
The Peter Smith Memorial Cup: Hibs Legends and Leith Athletic play for honour and the memory of Peter Smith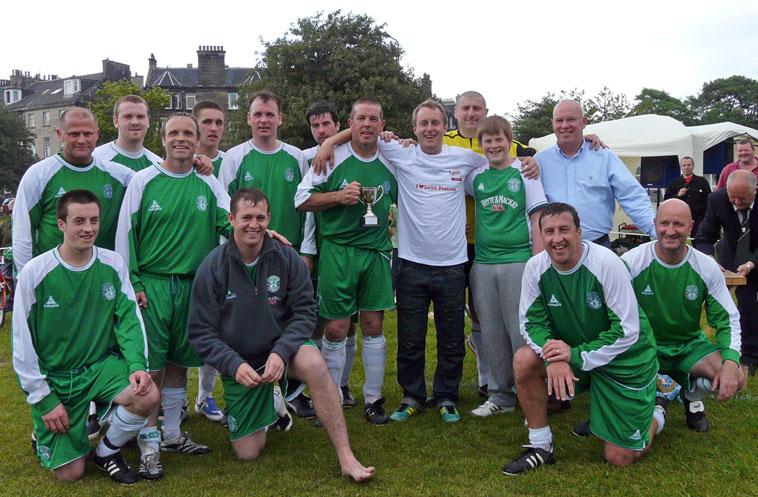 Hibs Legends (including Mickey Weir, and Paul Kane, who helped organise the event) took on the young legs of Leith Athletic and came out on top in a seven goal thriller. The teams were playing for the chance to lift the Peter Smith Memorial Cup. Peter died suddenly recently and was the janitor of St Mary's Primary School who spent most of his spare time organising the school's Soccer Sevens. The Hibs Legends also included defenders Calum Milne and Gordon Hunter and strikers Graham Harvey and Craig Hume.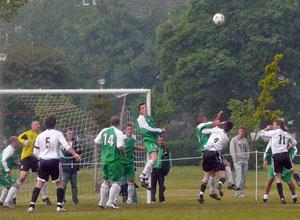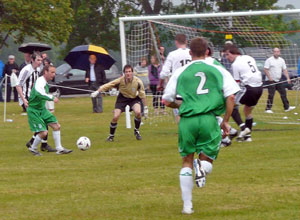 Left <<<: Hibs legends on the defensive
Right >>>:Goalkeeper David Duncan on the alert for a Hibs strike.
An estimated crowd of 600, stood entranced in the soft summer rain, to witness a hard fought 4-3 victory for the Legends which could have gone either way. The first goal in Sunday's 7 goal thriller was scored by Leith Athletic captain Neil Ewart with a fine headed goal from a corner. Hibs fought back with a fine goal by Mickey Weir (Hibs no 7). Both teams went in at 1-1.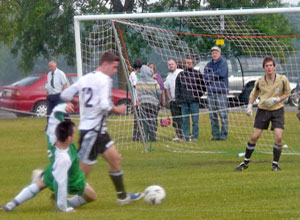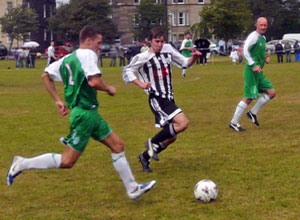 Left <<<:Determined defending from Leith Athletic shows this was no casual encounter
Right >>>:A thrilling midfield goal run


The second half saw Hibs go behind twice more only to equalise each time. Mickey Weir made the winner for Hibs in the dying throes of the match, with a set up from Graham Harvey. Many joked that new Hibs Manager John "Yogi" Hughes had triumphed with his first victory within a week of his appointment.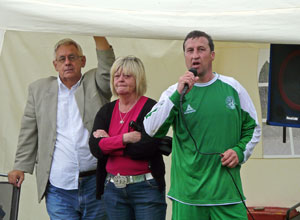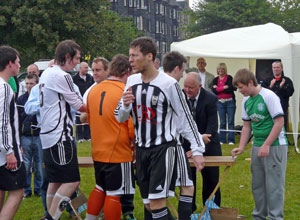 Left <<<: Leith Athletic collect their runners up medals.
Right >>>: Paul Kane paying tribute to Peter Smith.
Paul Kane made a fine speech about Peter Smith with Peter's parents, his widow Averil and his grandson Dylan along with Peter's brother present. It was appropriate that his first team Hibs won the inaugural trophy. Peter's son Darren handed over the trophy.

Thanks to Hibs Season Ticket holder, Leith Councillor Gordon Munro for help with the match report.

Leith Athletic web site >>>
Hibs web site >>>
Mickey rolls back years to win Peter Smith Cup for Legends: Evening News, June 15th 2009 >>>