Leith & North: Please email any news items to: news@leithandnorth.org.uk
Leith Festival 2009: Arts venues spring up all over Leith

Ocean Terminal really came into its own as an arts venue during this year's Leith Festival, but there were exhibitions at Out of the Blue Drill Hall, the Arts Complex and an original sculpture (a permanent fixture, in the Secret Garden of South Leith Parish Church. These pictures represent the venues that Leith & North was able to visit in 2009.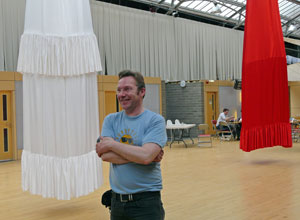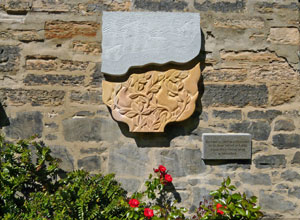 Left <<<: Duncan Robertson at his Dress Down exhibition at Out of the Blue Drill Hall
Right >>>: Graciela Ainsworth's specially commissioned sculpture.
Out of the Blue Drill Hall hosted Duncan Robertson's "Dress Down", an exhibiton of photos and two epic sculptures which used dress as a metaphor for the human form (see above, and right, for the full impression).

South Leith Parish Church commissioned local artist, Graciela Ainsworth to create a sculpture, (above, ) as a permanent memorial to all those buried in Leith, especially those in unamrked graves. The words are from 1st Corinthians, in the Christian Holy Book, and read:

When buried ugly & weak; When raised beautiful & strong.
When buried, a physical body; When raised a spiritual body.

Duncan Robertson's web site >>>
Graciela Ainsworth's web site (uses Flash) >>>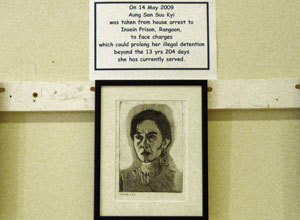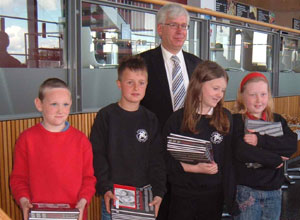 Left <<<: Burma's imprisoned leader, Aung Suu Kyi
Right >>>: Mark Lazarowicz with pupils from Pirniehall Primary


Crombie's, the celebrated Broughton St butcher sponsored Pot Pourri, a competition and exhibition of art work by local primary schools including Fort, St. Mary's Leith Walk, Lorne and many others. Prizes for posters were handed out by Malcolm Chisholm and Mark Lazarowicz (MSP and MP for Edinburgh North and Leith,) on Leith Gala Day.

Forthview, Pirniehall, and St. Mary's Leith Primaries combined with three Burmese schools, and two other Edinburgh schools to produce a book of etchings of Burmese scenes. Alastair Greig from Edinburgh's Amnesty Burma Group gave a copy of OUR BURMA BOOK to Archbishop Desmond Tutu when he attended the Church of Scotland General Assembly this year. Prints from OUR BURMA BOOK, which was produced with Lottery funding, will be available for sale.

Forthview's Burma blog with more images from the Burma Book >>>
Pirniehall's Burma blog >>>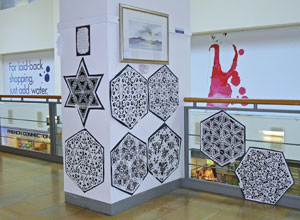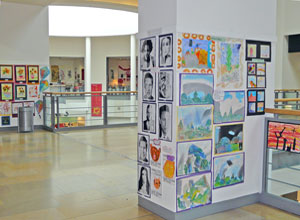 Left <<<: Pictures from Primary Pot Pourri on display at Ocean Terminal
Right >>>: More pictures from Primary Pot Pourri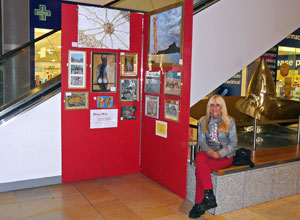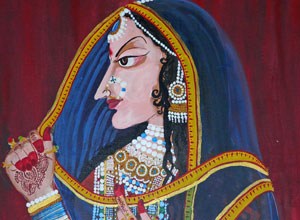 Left <<<: Melissa Milan, London and Rio based artist.
Right >>>: Painting by Parthasarathi Ray.


Another highlight of Leith Festival 2009, was the wood sculpture of (Leith based painter and sculptor,) Arran Ross, who has also exhibited at Edinburgh's City Art Centre. Arran's theme for Leith was "Spacewalk"; his space men could be seen inside Ocean Terminal, while Arran himself worked with his chain saw, in full view of passing Leithers.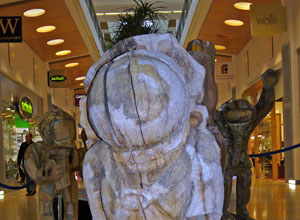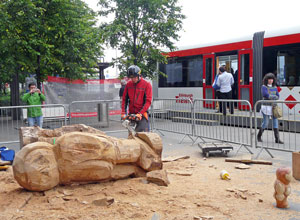 Left <<<: Arran Ross' space men in the Ocean Terminal
Right >>>: Arran outside with a facsimile tram behind him.


Arran Ross' web site >>>