Leith & North: Please email any news items to: news@leithandnorth.org.uk
Embedding poetry in the heart of Edinburgh: Poetry Garden launched in St. Andrew's Square Garden

A small group gathered at lunchtime on August 25th to listen to some speakers, hear a little poetry, and cast their lotuses on the waters with a wish. Many poetry related events will follow - with poetry featured in the Garden's Coffee Republic coffee shop, events for schools, links to City of Edinbvrgh's Makar, Ron Butlin. There will be a Personal Poetry Shopper event Friday 5th September (12.30-1.30) with Reader in Residence, Ryan Van Winkle helping passers by to find a poem to read to suit their mood.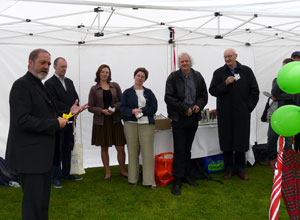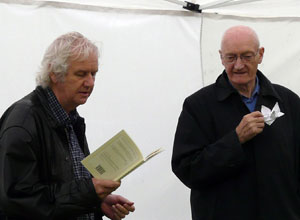 Left <<<:
Ewan Aitken opens the poetry garden

Right >>>:
Makar Ron Butlin reading his poetry with Richard Holloway listening.
Ewan Aitken (former Edinburgh Council Leader and Councillor for Restalrig,) threw his weight behind the idea of a poetry garden from the get go. He opened the garden speaking of the dream of "embedding poetry in the heart of Edinburgh" in the garden named after our national saint. Richard Holloway compared literature to various fine drinks and poetry to whisky which should be sipped and savoured.Official City Makar Ron Butlin dedicated the garden with readings of "A Recipe for Whisky", and "Poetry for St. Andrew's Square".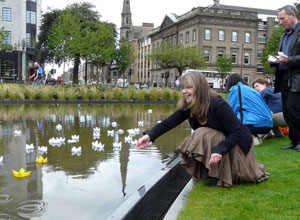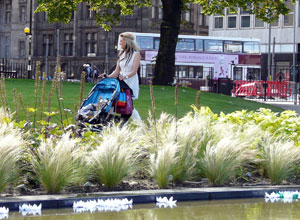 Left <<<: Fay Young casts her lotus on the water.
Right >>>: Young Mum passing by the floating lotuses.


The party then gathered round the pond in the soft summer rain to float their white, yellow and green paper lotuses across the water whilst making a wish.

"The wonderful thing about poetry is the way, in a few lines, it can sum up profound human experiences: sorrow, lovem joy, rage. And the wonderful thing about having a poetry garden in a famous square in a beautiful city is the way it will help people to pause for a minute or two and let poetry into their lives." Richard Holloway.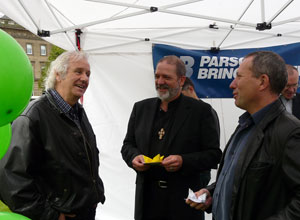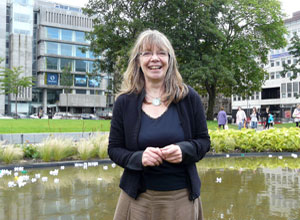 Left <<<: Ron Butlin shares a joke with Ewan Aitken and Gordon Munro.
Right >>>: Fay Young who first proposed the dedication of the garden to poetry
The St. Andrew Square Garden was opened to the public for the first time in April this year, where before it was only open to residents and surrounding businesses.It is hoped that it will twin the Edinburgh International Book Festival, (held in Charlotte Square,) to create two poles of literature at either end of George St in the UNESCO City of Literature.

City of Literature web site >>>
Edinburgh Makar Ron Butlin's web site >>>
Coffee Republic's web site >>>
Leith Open Space web site >>>