Leith & North: Please email any news items to: news@leithandnorth.org.uk
Dialogues of Wind and Bamboo: Midsummer Magic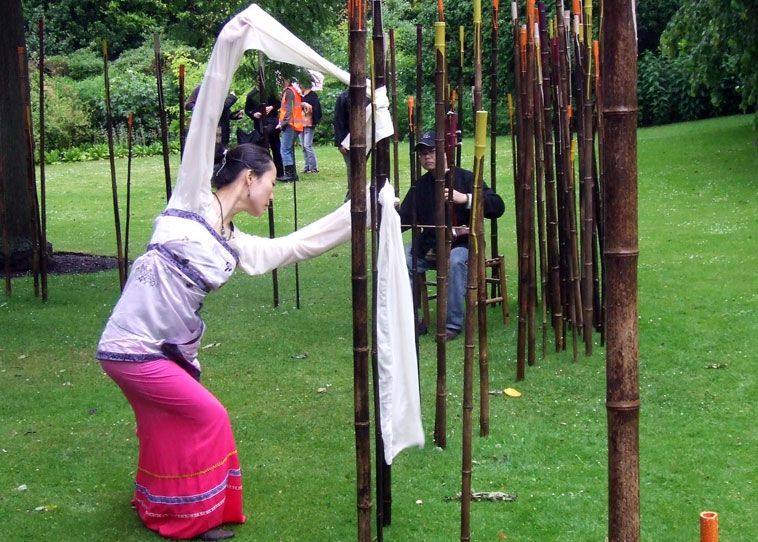 The Intercultural Music & Arts Project (iMAP) staged a magnificent ground breaking event in the soft summer rain of Midsummer's Eve in Edinburgh's Royal Botanical Gardens. Musicians, dancers, and Tai Chi specialists from around the world collaborated against the magickal green background of the gardens, the historic Glass House and Susie Brown's Bamboo installation.

View photos and in depth coverage on Leith & North >>>

For me the Garden is a kind of performance space; a performance based on plants. But to make the experience richer we do things that are not just connected with plants.
Stephen Blackmore, Regius Keeper, RBGE
We bring music to the Garden to see how we can rediscover some ... traditions. In Dialogues of Wind and Bamboo we also want to explore how music is part of the life-changing experience so people do not just see the Garden but hear the Garden as well.
Kimho Ip, Director, Dialogues of Wind and Bamboo
The Sculpture made from 600 shoots of black bamboo (Phyllostachus nigra), creates a stage for dancers and musicians.
Susie Brown, Artist & Designer, Susiemaroon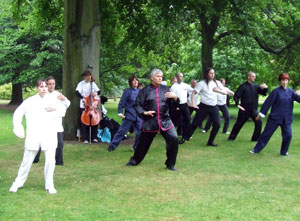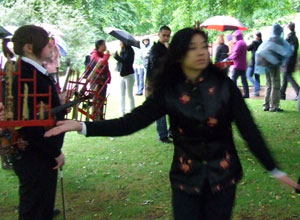 Left <<<: Tai Chi action led by Bob Lowey in black. Right >>>: Pupils from Perth High accompany the Bamboo God.