Leith & North: Please email any news items to: news@leithandnorth.org.uk
Parallel Lives 2: From Out of the Blue to Muirhouse

Parallel Lives 2 is made up of replies to three art works on showing the National Galleries of Scotland collections. The project aims to help people connect with classic earlier works and encourage them to enter into dialogue with the earlier artists and their works, producing their own creative responses.


The three works chosen were:
Marcel Broodthaers' surreal sculpture La Tour Visuelle, 1966; George Seurat's post-impressionist landscape La Luzerne, Saint-Denis, 1885; James Edgar's portrait of preacher and philanthropist Rev. Thomas Guthrie, 1862.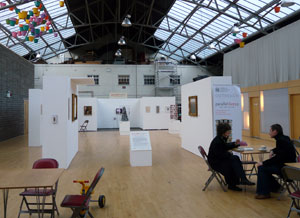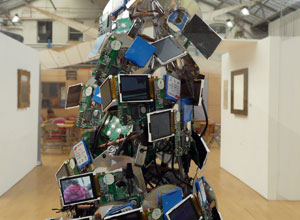 Left <<<:
Long view of the exhibits in the Out of the Blue Drill Hall with the Tower of Leith in the centre, and seated tea drinkers in the foreground

Right >>>:
The Tower of Leith.
"Inspired by these challenging works of art, Parallel Lives 2 offered its participants the opportunity to express their views on contemporary life. Groups of participants from Leith, North and West Edinburgh worked with artists to produce creative responses that give shape and form to their views on current social issues." Parallel Lives 2 micro site.

The Leith participants worked on a response to Marcel Broodthaer's The Visual Tower (La Tour Visuelle), created in 1966.

"This work is made of mass-produced units: glass jars, wooden discs and photographic reproductions of an eye from a cosmetics advert. The artist's use of these materials reflects the impact of the 1960s, when many artists made use of images from the mass media and advertising in their work" Parallel Lives 2 micro site.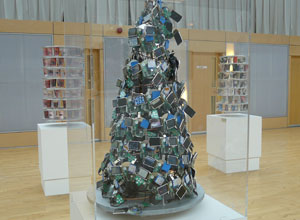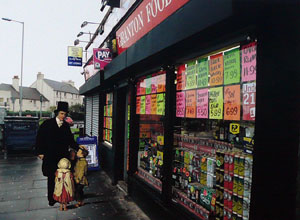 Left <<<: The Tower of Leith with The Visual Tower behind it to the left.
Right >>>: Life size cardboard cutout of Rev Guthrie photographed outside a shop in Granton, part of "Does Reform Reform You?"


Grant Lockhart took up a residency at Out of the Blue last Summer and used the Bloodthaers work as a starting point to explore current issues such as community surveillance, and identity and desire in consumer culture. Leith based people involved came through links with Pilmeny Development Project, Pilmeny Youth Service,
Stepping Stones, and Leith Academy Adult Education Animation Class.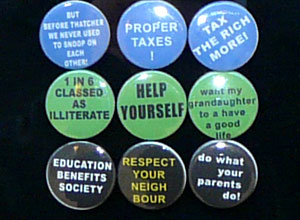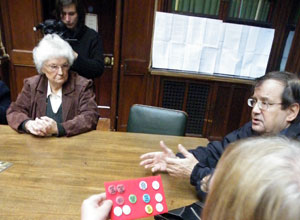 Left <<<: Close up of framed badges forming a cross pattern, part of "Does Reform Reform You?"
Right >>>: The North Edinburgh group discussing badge captions (by kind permission of Richie Cumming of NGS).
Members of North Edinburgh's 'Ways of Seeing' and 'MAMA Rag' groups, met weekly at the Prentice Centre. They created "Does Reform Reform you?" in response to a portrait of Rev Thomas Guthrie, 1803 – 1973, (Preacher and philanthropist,_ painted in 1862, by James Edgar. The group worked with Kevin Reid to explore current social policy in relation to communities and welfare, and to present their own solutions to these difficult issues.

"The group's discussions included subjects such as their own experiences of poverty, Guthrie's achievements, motives and morals and how disadvantaged children were, and are, cared for by the state and society" Parallel Lives 2 micro site.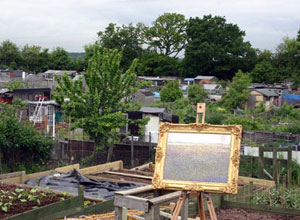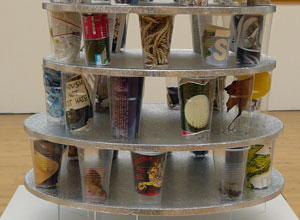 Left <<<: Reproduction of La Luzerne in a Wester Hailes allotment" (by kind permission Richie Cumming, NGS)
Right >>>: Close up of The Tower of Rubbish in response to "La Tour Visuelle".
Over 140 people in the Wester Hailes community contributed an image to the final piece which is an animated image of Wester Hailes from Ratho, made up of almost 2,000 digital photographs. The process of creating this image involved a core group, working with artist Craig MacLean, exploring themes around Georges Seurat's painting La Luzerne, Saint-Denis, 1885. They then took a copy of the painting into the community and asked local people to take a photograph of their own to add to the final piece.

Leith & North will return to this exhibition when it arrives at the North Edinburgh Arts Centre, but until now, we hadn't appreciated what a magnificent space The Drill Hall can be for exhibitions. We hope there will be many more in the months to come.

Parallel Lives 2 micro site >>>
WHALE web site (Parallel Lives 2 showing February 26th to March 27th) >>>
North Edinburgh Arts Centre web site (Parallel Lives 2 showing April 2nd to May 4th) >>>
Leith Life on MySpace >>>
Out of the Blue web site >>>
Pilmeny Youth Centre web site >>>
Stepping Stones micro site >>>
The Prentice Centre web site >>>