Leith & North: Please email any news items to: news@leithandnorth.org.uk
Xmas 2007 celebrations start in Leith
Sir Tom Farmer helped children countdown to Xmas 2007 at the Fit o' the Walk, on Thursday December 6th. 100 plus Leithers gathered to hear children from St. Mary's Primary School sing Christmas Carols, listen to local Councillors speak, and see the Leith Christmas lights lit.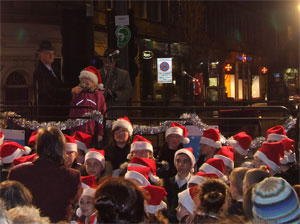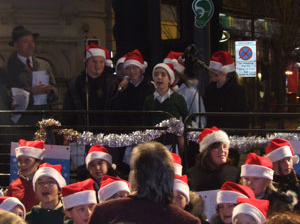 Sandy Campbell of Leith Festival and Gordon Munro, Labour Councillor for Leith, were the MCs, introducing the St. Mary's school choir, Sir Tom Farmer, and other Councillors, including Deputy Provost and Leith Councillor Rob Munn, while entertaining the crowd as we waited for Hibs Manager John Collins, who was delayed in traffic as he made his way from East Lothian.
Chloe Smith was featured singing "In the stillness of the night", there was communal singing of "We Three Kings" and "O Come All Ye Faithful". As we waited for John Collins, who was unable to cross town in time, there were several choruses of Jingle Bells, with Gordon Munro urging the crowd to sing "Glory, glory to the Hibees".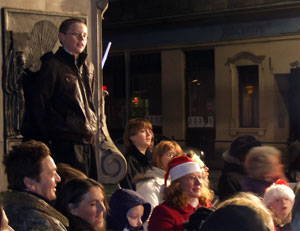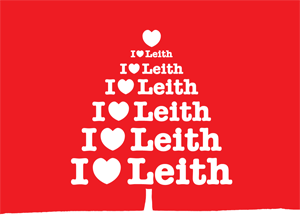 Gordon Munro described Christmas in Leith as "a growing event", and was "glad our friends at Leith Festival are taking it over". He also thanked Rita Crombie of Leith Festival for her work behind the scenes, and Leith & North also spotted Mary Moriarty in action.
St. Mary's Primary School CD out now, in time for Christmas!
The leader of St. Mary's school choir, Mrs Mary Bainbridge recounted how the school had recorded a CD last summer, paid for by Sir Tom Farmer, to raise funds for and awareness of SCIAF - a charity for AIDs in 3rd World countries. Every class in school is on the CD, singing their own class song, and sales of the CD, priced at £5, have already raised over £2,000.

Mary commended the CD as suitable for "grannies, aunties and everyone else, hinting (Leith & North thought,) that it might make a very good Christmas present.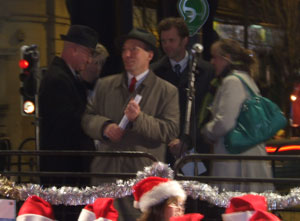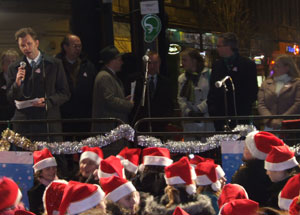 Rob Munn, SNP Leith Councillor, and Deputy Provost, welcomed Leithers on behalf of the Council, and thanking them for "turning out, and fostering the Spirit of Christmas". Leith has held the Deputy Provostship for two terms, and Rob hopes that the next Provost will be a representative of Leith; he passed on greetings from current Provost George Grubb, who promised to be along next year, for Xmas 2008. Leith Council of Churches for all the faiths were represented, and Councillors Marjorie Thomas and Louise Lang also shared the platform.
Time for Trams! :o)
We waited for John Collins who was delayed in traffic, as he made his way across Edinburgh from his home in East Lothian. Various speakers apologised for not being he, and Sandy and Gordon helped the crowd entertain themselves by calling on the children to pick and sing their favourite carols. Gordon commended the Hibs 2008 Calendar to us, describing its many pictures of members of the First Team in familiar Leith settings, and praised Hibernian for their growing involvement in local community causes.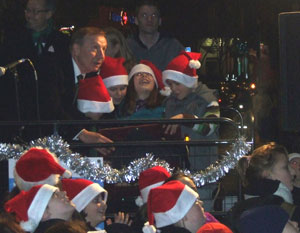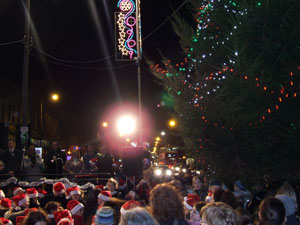 In the end, Sir Tom Farmer was the hero of the hour. He joked that when he was at St. Mary's Primary School, as a boy, the children had a lot more holidays and said that he would have a word with the Headteacher.

Jack and Michael from St. Mary's had been picked to help switch the lights on, and Sir Tom called for two girls from the audience to come up and join them. He led the countdown to switching on the lights brilliantly, and after the second time of asking, the lights came on to shed light on the Fit o' The Walk through the dark nights of winter.
School Choirs to sing Carols at the Fit o' The Walk, in December 2007
Monday December 10th, 1.30pm: Leith Primary School
Tuesday December 11th, 1.45pm: Bonnington Primary School
Wednesday December 12th, 1.45pm: Lorne Primary School
Friday December 14th, 10.30am: Hermitage Park Primary School

Leith Festival web site >>>
Scottish Catholic International Aid Fund web site >>>
St. Mary's Primary school web site >>>