Leith & North: Please email any news items to: news@leithandnorth.org.uk
Stop Climate Chaos: Colourful cutouts join call on MSPs to show courage in cutting carbon!

Visit the Scottish Parliament web site to keep up to date with the drafts and progress of the Climate Change Bill >>>
The upcoming Scottish Climate Bill offers MSPs an opportunity to leave behind the Neronian fiddling that has characterised most legislation of most countries to date. Supporters of the wide ranging Stop Climate Chaos Scotland coalition gathered in large numbers on April 22nd to urge that the supposedly unpopular could actually be popular. The Bill whilst bolder than many, has been seen to lack the urgency needed to stop the rising tides of Climate Change in time. However it continues to evolve and has undergone many amendments.
International scientists, campaigners and celebrities call for tougher targets for Scottish Climate Bill: Sunday Herald, June 21st 2009 >>>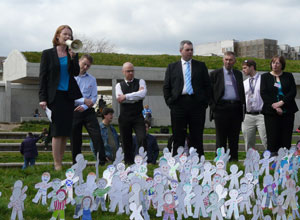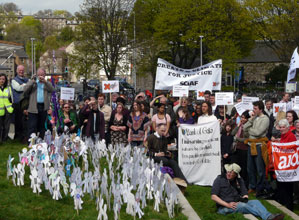 Left <<<: MSPs (including Green Patrick Harvie (arms crossed) addressing campaigners
Right :>>> Campaigners listening to MSPs


In December 2008, the Scottish Government (self styled) brought forward a Bill to set a target for the year 2050, an interim target for the year 2030, and to provide for annual targets, for the reduction of greenhouse gas emissions; there are many other provisions relating to Scotland's carbon dioxide emissions.

The strongest objections focus on the interim target of 2030 - too late - and the phasing of cuts - too little, where cuts of at least 3% are per year are required. Various amendments have already been tabled since April.

Last night, Monday June 22nd, the Scottish Government tabled an amendment, after the main deadline, calling for a reduction of 42% in Scotland's climate emissions by 2020 from 1990 levels. This marked a major shift from their previous sticking point of a 34% reduction by 2030, and an increase over the Labour amendment.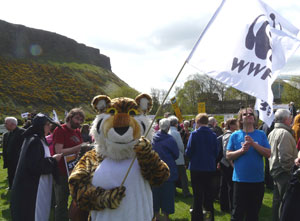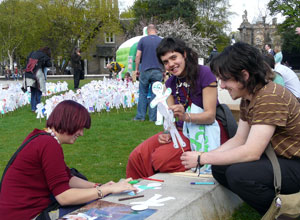 Left <<<: Getting the tiger out of your tank
Right :>>> Making paper figures.
"Annual cuts of at least 3 per cent a year are the absolute minimum that the science demands to keep within a fair and safe total carbon budge. If Scotland is to embrace our moral responsibility and take a lead in tackling climate chaos we must adopt statutory and enforceable targets." Duncan McLaren, Friends of the Earth Scotland.

"By amending the target this bill finally begins to addresses the urgency with which we need to deal with this issue, listens to what the science is telling us, and takes account of the growing public consensus that a target of 42% is required." Mike Robinson, Chair Stop Climate Chaos Scotland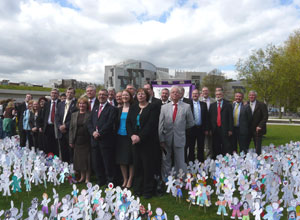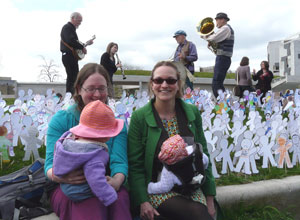 Left <<<: MSPs in the heart of the Saltire formed by the paper army
Right :>>>Two Mums and babies in the sunshine.


Some other improvements over the 2nd draft of the Bill address some of the workings of the machinery that will actually set Scotland on the journey to shoulder our share of the responsibility for helping save mankind and some of the species that we share the planet with:

a clause requiring a 2015 reporting date on how we are doing - to help ensure the 2011-2015 Government will be looking to meet a proper target;
putting in place effective reporting arrangements (including on consumption and reporting on cumulative emissions);
an obligation on public bodies to report on how they use procurement policies to tackle climate change and promote workplace action;
a 20% limit on the purchase by the Government of carbon credits from abroad;
requirements for the Scottish Government to begin to think about air and maritime emissions;
the production of a land use strategy, and the identification of expected contributions from the energy efficiency, energy production, transport and land use sectors towards the overall targets;
ensuring that employers and trade unions are involved in and consulted upon adaptation policies and that there will be public engagement on adaptation policies, and enshrining these obligations in law.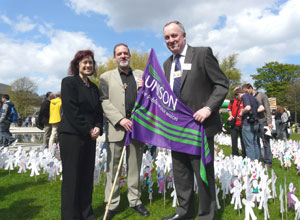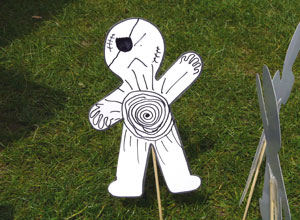 Left <<<: Sarah Boyack MSP, Minister and Councillor, Ewan Aitken, and UNISON official Dave Watson
Right :>>> Member of the awkward squad or an infiltrator?
Stop Climate Chaos Scotland web site >>>
Christian Aid Scotland web site >>>
People and Planet (pictured below) web site >>>
Visit the Scottish Parliament web site to keep up to date with the drafts and progress of the Climate Change Bill >>>