Leith & North: Please email any news items to: news@leithandnorth.org.uk
Return of The Soul: The Nakbah Project: Wednesday July 30th: The official Edinburgh launch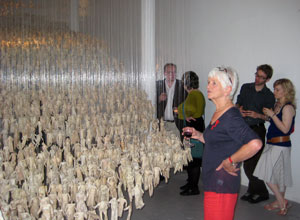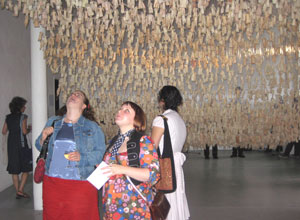 Artist and creator Jane spoke of her personal journey - how a visit to a concentration camp in Poland led her to explore the Jewish narrative, and this thread led her to learn about "Al Nakbah", the term Palestinians use to decribe their forced exile from their land. This story, and the facts behind it, said Jane, are out there for anyone to find if they are willing to seek them out. Her hope with the art work has been to try and create something that moved people emotionally, so that their minds would follow after.



Dr. Atallah Kuttab, Director-General of the Welfare Association flew in from Jordan to officially open the exhibiton. He underlined that Al Nakbah, a huge event as it was, ws only one of many among the ongoing experiences of the Palestinian people. He spoke of his childhood in the 1950's, the challenges he gave his parents about their flight, and of one personal battle over his passport, to have his birthplace identified as East Jordan (which it was,) rather than as Israel (which claims the name for that location now).

The installation is due to return to Lebanon to be shown marking the anniversary of Sabra and Shatila camp massacres which began on September 15th 1982.

Another set of duplicate 3,000 figures will be exhibited in Jordan in October and the plan is for the two sets of figures to be exhibited in the future doubling the size and scale of the work.

Some 150 to 200 people wandered round contemplating and absorbing the work. The exhibition runs until Augst 18th, and Leith & North urges everyone to come down to the Patriothall (WASPS) Gallery, on Hamilton Place, just between Scotmid and Theatre Workshop.


Monday August 18th: What goes up ... The uninstall
What goes up, must indeed come down. And Return of the Soul had two days to get shipped out to make way for Cecilia Yu's beautiful silk works "Love Without a Heart".

So. 3046 wax figures on 6092 wires had to be carefully unhooked, from on high, lowered to waiting hands below, catalogued, bubble wrapped and crated up.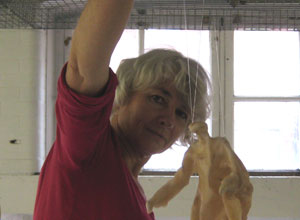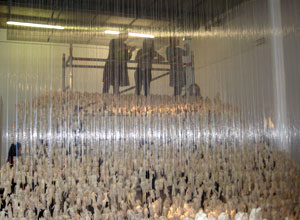 Left <<<: Artist Jane Frere with one of the figures as the uninstall nears the end
Right >>>: Jane and volunteers prepare to hand the figures down for bubble-wrapping.
The install was more complicated and time consuming than Leith & North's correspondent could have imagined. So was the uninstall. Bubble wrapping 3000 figures is straightforward but takes a fair bit of time. At five minutes a figure, that works out at around 10 solid days work, or around four working weeks! BUT... You can double that for the task of unhooking each figure and lowering it down to be wrapped!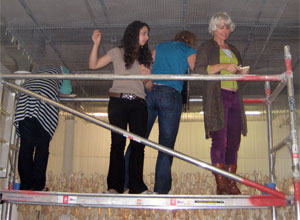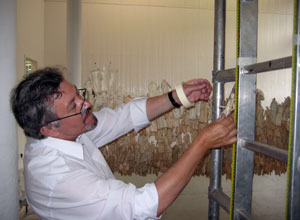 Left <<<:Jane measuring a figure, as everyone dances round each other on the narrow platform.
Right >>>: Phil measuring a figure at ground level.


Each figure dangles on two hooks on two transparent nylon wires several metres long; each figure is very light and takes on a life of its' own with the slightest movement.Great care and calmness, with a steady hand are needed to stop the figures tangling, and patience and nerve are needed to untangle them, otherwise you are in danger of rapidly creating a ratking of waxwork figures and wires.

The figures are tiny people with arms and legs in motion, carrying different objects, such as bowls, other people and, the greatest challenge - walking sticks! So not only can the wires tangle, but the figures themselves can catch each other, and if you don't see this happening, then the wires - sometimes all but invisible, follow the figures and entwine before you realise it. Drop a hook and you can be lost too, as you see it slip among the wires and little people. This can happen at any point when taking them down; they had to be unhooked and then like tiny puppets, pulled away from their companions for measuring, then carefully lowered, wires, hooks and all into the hands of a helper below waiting with bubble wrap, marker pen and sticky tape.

Return of the Soul: The Nakbah Project (continued) >>>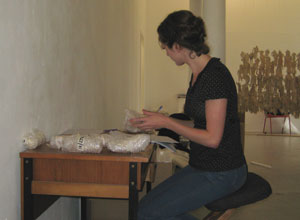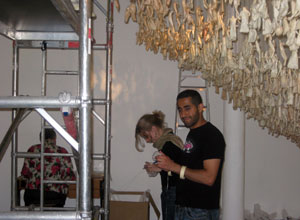 Left <<<: Pippa and Mohammed wrap figures around the half way point.
Right >>>: Art historian, Lucy catalogues the figures by row, size and line length for Shams Theatre in Beirut.
Patriothall Gallery web site >>>
Return of the Soul web site >>>
Edinburgh Art Festval web site >>>
A nightmare of shattered lives: The Scotsman, July 24th >>>
Wikipedia article on the Auschwitz concentration camp >>>