Leith & North: Please email any news items to: news@leithandnorth.org.uk
Edinburgh Mela 2008: Showcasing Bengali Chinese, South Asian, Japanese and Scottish traditions

Acts from all over Scotland and the UK gathered in and around Ocean Terminal, Leith in the last week of August, for this year's week long Edinburgh MELA. We have photos of just a handful of the performers involved, but we'll be back in 2009, eagerly looking forward to seeing what the 2009 Edinburgh MELA has in store ...
Edinburgh MELA web site >>>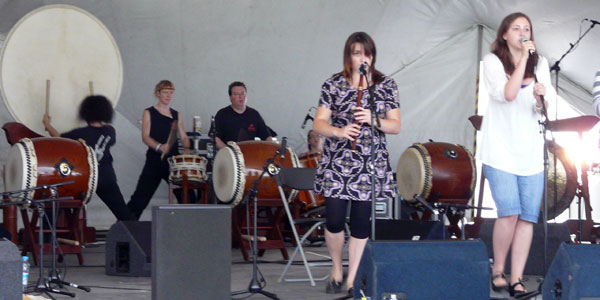 <<<: Yatra: In rehearsal
Yatra//Journey was a collaboration of artists from the Royal Scottish Academy of Music and Drama, Adeo Records and Mugenkyo Taiko Drummers. It was performed on both nights of the weekend, and drew together South Asian traditions with Scottish music and Japanese Taiko drumming. The Bengali Performing Arts are based in Renfrewshire: they performed "...for a living planet" a piece dedicated to Mother Nature, which drew on a selection of Indian dance forms.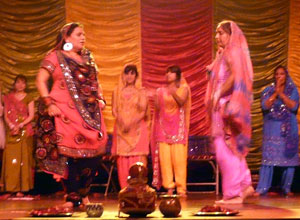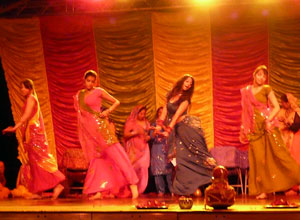 Left <<<: Bengali Performing Arts hear the cry "Give back the Forests"
Right >>>: The longing in humanity to safeguard Nature.


Cathay Re-public (below), was another collaborative project under the aegis of Kimho Ip's iMAP. Kimho was joined by Cheng-Ying Cheung (countertenor and liuquin), Louise Martin (cello, musical saw and stiltwalker), Jiang Li (percussion), and Coral Lee (dancer pictured above). They performed several pieces on three occasions and invited passers by and listeners to join in the finale, by playing on small drums which they passed around.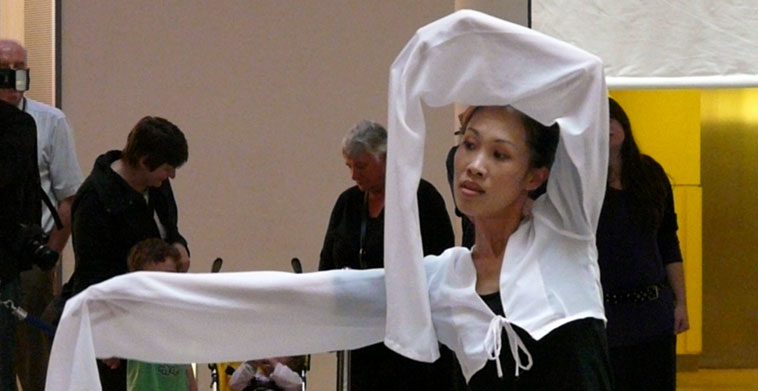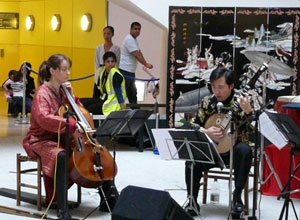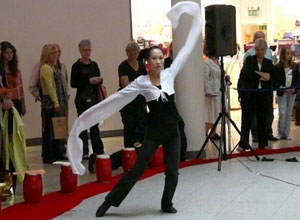 Left <<<: Louise Martin and Cheng-Ying Cheung perform while a security worker and Coral Lee watch on.
Right >>>: Coral Lee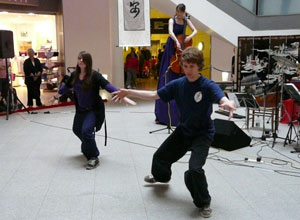 Left <<<: Members of the Bob Lowey 7-Star Taijichuan School
Right >>>: Coral Lee leading children in the dance.


Initium (where dreams begin) was performed in the massive dining area of the Ocean Kitchen by Akademi South Asian Dance UK. It featured a large cast of male and female dancers in a stunning display of dance, conflict, death and rebirth. The Ocean Kitchen was turned into a balconied theatre as people on three levels watched the breathtaking dancing and acrobatics.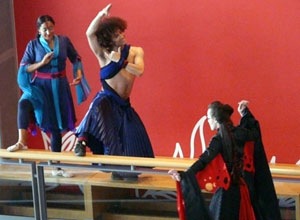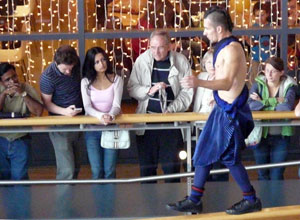 Left <<<: Akademi South Asian Dance UK in the Ocean Kitchen, Leith
Right >>>: Akademi South Asian Dance UK in the Ocean Kitchen, Leith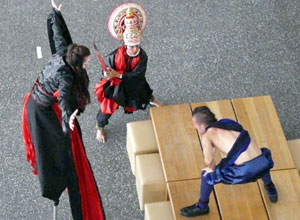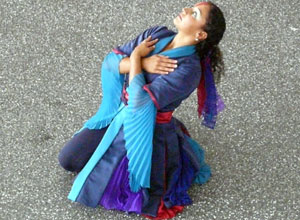 Left <<<: Akademi South Asian Dance UK in the Ocean Kitchen, Leith
Right >>>: Akademi South Asian Dance UK in the Ocean Kitchen, Leith
Edinburgh MELA web site >>>
Mugenkyo Taiko Drummers web site >>>
Bengali Perorming Arts web site >>>
iMAP Intercultural Music & Arts Project web site >>>
Coral Lee's web site >>>
Akademi South Asian Dance web site>>>